Linking up with
Biana
:)
Let's get right to it!
On Friday, my Dad was off of work, so Wells spent the morning with him while I took Grayer in with me to work for a couple of hours. After we got home and the boys napped, we headed into Savannah for a little bit of shopping. My mom had gotten a few things at Belk's pre-sale last week and had to go pick it all up. They were still having a great sale, and I got a few new items - I am loving these pants! I got them in "Lotus" and "Starry Night." Thanks, Mom! :)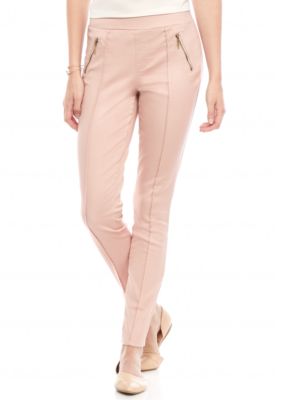 Then we headed to Home Goods to see if I could find any stuff for Wells'
train room
. I was so bummed - there was no train stuff! Looks like I'll be ordering most of the decor online. Eric got off work just as we were wrapping up our shopping and met us in town to grab dinner.
Saturday morning felt a little like fall - we walked outside and it was about 66 degreees! Wells was definitely not used to that! He said "Oooooooh, COLD!" and started to cry. Ha! #southernkidprobs
It warmed up and was almost to 90 degrees later on in the day, so the morning weather was just a big tease.
Anyway, Saturday we spend the day at celebrating a sweet-as-pie little girl from our church at the Lowcountry Down Syndrome Society's Buddy Walk.
This was our third year going, and we had a great time as usual (as evidenced in the picture above of Wells - that crazy, sweaty hair and rosy cheeks)! The rest of the day was pretty low-key...after the boys took their naps, my sister came over to spend the night like she usually does on Saturdays. Eric got home from work, played with Wells (Grayer was tuckered out and already in bed), we watched a little TV, and we called it a night.
Sunday was church and dinner at my Granny's. Not a great picture (okay, actually a downright awful one), but I wore my new pants, an olive green tee, nude heels, and an old necklace.
We came home for naps, and then we played. Eric usually plays on a men's soccer league (he played soccer growing up and in college) in the summers, but his team asked if he wanted to start playing this fall too because they are down a few players. Their games are late, after Eric gets off, so we headed in town to watch his first game. We are big soccer fans, but it is soooooo hot in the summer when he plays, that I don't usually take the boys to see him. I think they both enjoyed themselves, and I always enjoy getting to see Eric play the sport he loves. He played goalie last night (he has played both field and goalie all his life) and had some really great saves! You will NOT see a picture of me because the humidity level was high, and my hair was feeling it. #myfrizzgamewasstrong
Monday is here in all of its glory, bringing with it grocery shopping and an eye appointment for me. Boooo. On the plus side, though, Eric is now off of work for the week (he works weekend shift and is off Monday-Thursday each week)! Looking forward to lots of family time!