Lord willing, we will be closing on our new house next Monday. #canyousaypraisehandsemoji We are looking to move in the first week of November after all painting and flooring has been done.
Me and Pinterest have been BFFS as I think about revamping some of our current rooms and decorations upon moving. I have a lot of new stuff I want to do in pretty much every room, and I know it will be a slow process instead of an overnight entire home remodel (which is what's happening in my head. ha!). One room that I really do want to go ahead and makeover right away is Wells' room. His current nursery has a safari-theme with pretty neutral colors.
I loved decorating his room so much. Lately, though he is all about trains (is there a two-year-old boy who isn't?). And I thought that starting with a blank slate would be the best time to give him a new "big boy" room. I will most likely keep his bedding since it's very neutral and easy to accessorize. I am not looking to spend a lot of money on this, and I feel pretty confident that by keeping his staple pieces like his crib (which we will convert to a toddler bed upon moving), dresser, shelves, and overall color scheme, I can dress it up train-style at very little cost (music to my hubby's ears!).
Here is some of the inspiration for the train room:
LOVE
this train storage
idea because it not only serves a purpose but looks great, too!
This sign
is just too dang adorable and so perfect...and may need to become our new goodnight phrase, stat!
You can't have a train room without a railroad crossing sign. When I saw
this one
that doubles as a clothing/hat rack, I fell in love. My dad is somewhat of a woodworker (and totall feeds into Wells' train obsession on the daily), so what better person to undertake this DIY project?! :)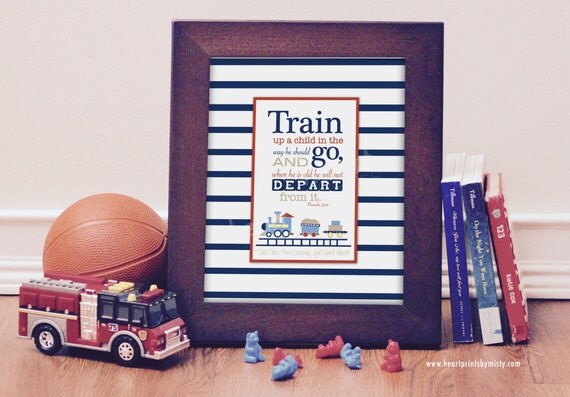 How adorable is
this print
?!
And lastly, this rolling, under-the-bed
train table
is awesome!
I am so excited to redo Wells' room and can't wait to see his face when he sees it all! Side note: Sweet
Grayer's nursery
will stay the same because he's only 8 months old and I feel like I
just
decorated it. Ha! Also, the room we are planning to use for Wells' room is a little bigger than Grayer's because when we have another baby (
not
a pregnancy announcement!), we plan to move Grayer into Wells' room. A shared room will be perfect for them because they are only 19 months apart. So, I think a train room will work really well for a shared room down the road :)